ZHIYUN SMOOTH-Q2- Movie Magic in Your Pocket
ZHIYUN has come a long way in exploring the ultimate compact form factor without any compromise in functionality. We turned our eye of precision and dedication into every detail, to deliver a beauty of pure simplicity to filmmakers of all levels. Introducing SMOOTH-Q2, the engaging gimbal ready to work without any fuss, the ultimate smartphone gimbal redefining the concept of compactness.

Main Features:
Compact size: Measuring only 204mm long
Multi mode: motionlapse, timelapse, vertigo shot, pov shot, vortex mode, object tracking, dolly zoom, and panorama.
Valid Payload Max:260g(0.57lbs) Min:75g(0.16lbs)
Battery Capacity: 4500 mAh Max Runtime: 17 hours
Support native iOS and Android phone cameras also 3rd party photo/video APP like FilMic Pro App
Quick release latch and handy phone clamp design
Easy to use:One LED indicator, two buttons and one 5 way control joystick, and that is all
Vortex mode: Support 360 degree rotation

NOTICE:
1.SMOOTH-Q2 may get the motor on view while shoting wide angle and ultra-wide angle pictures or Videos by using Smartphone like iPhone 11 Pro Max, you can press the shutter button three time to enter the super wide-angle auxiliary shooting position
2. For the first time, please fully charge the batteries to activate them and to ensure the proper function of the stabilizer
3. Balacing your Mobile Phone before turning on:
4.Put the phone lens face up, then move the phone left or right until the phone is steady and is almost level with the ground
5. Please read the user instructions or Youtube video instruction would help you master the gimbal better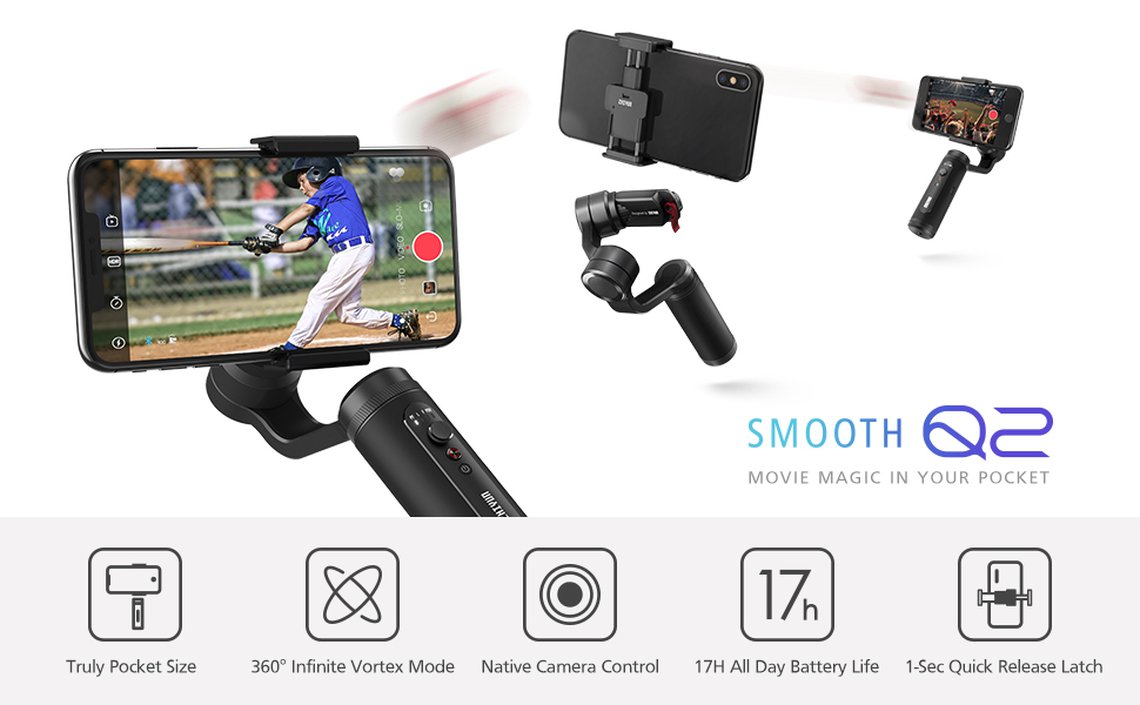 Specifications
Tilt Mechanical Range: 305°
Roll Mechanical Range: 265°
Pan Mechanical Range: 360°
Phone Holder Max: 86mmAdj
ustable Range Min: 55mm
Valid Payload Max: 260g (0.57Ibs)Min: 75g (0.16lbs)
Bluetooth: Bluetooth 5.0
Battery Capacity: 4500mAh
Battery Runtime: 16 hours
Packing Specifications
Product Size: 204* 102*41.5mm (WDH)
Packing Size: 229*119* 54mm (WDH)
Product Net Weight: 450g (0.99Ibs)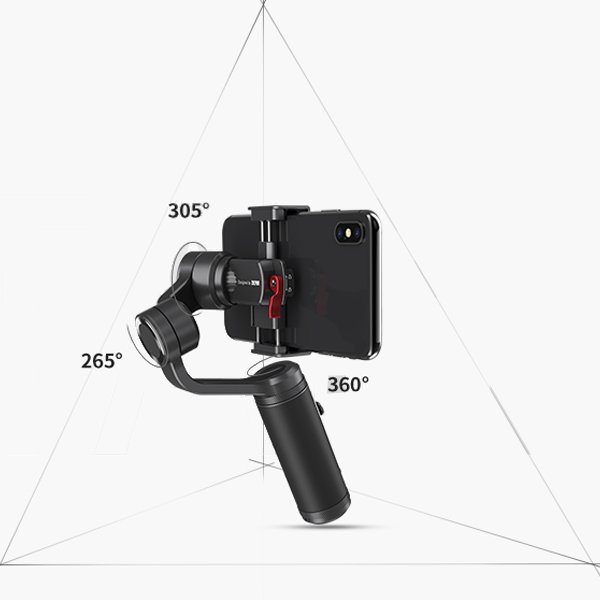 Support 360 degree rotation
Unfold the axis and ready for content creation. Shoot in the angle that you want.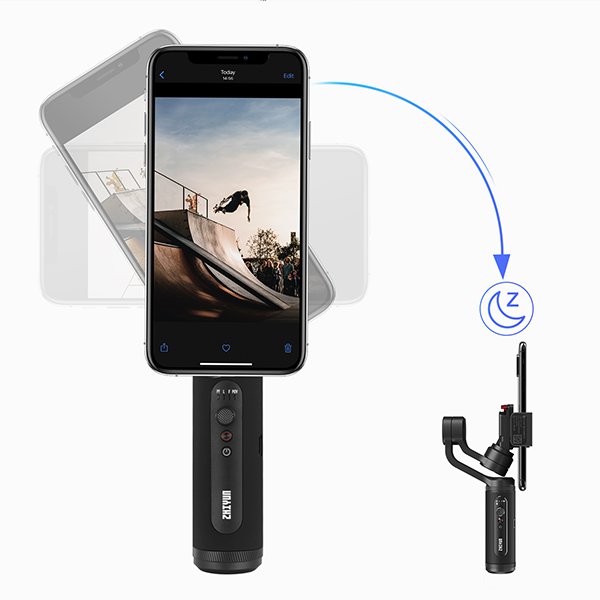 Clip up and Go
The clip-up design realizes easy transition between standby mode and startup mode by folding and expanding the horizontal arm of the gimbal.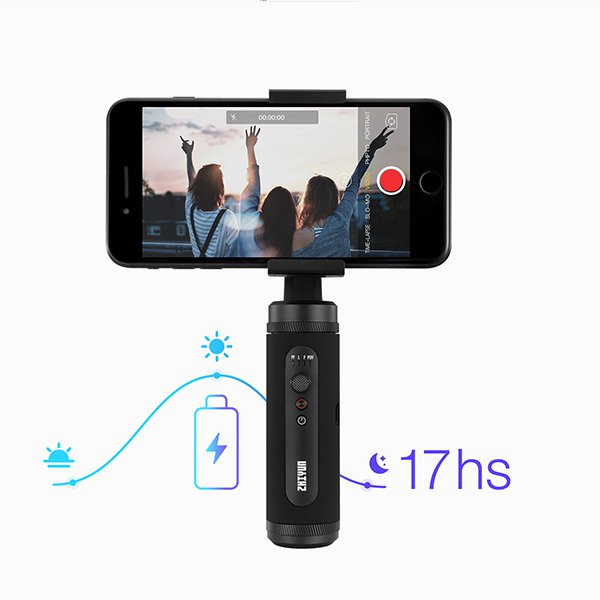 All Day Battery Life
Powered by a strong battery system, SMOOTH-Q2's battery life is up to 17 hours with a rechargeable battery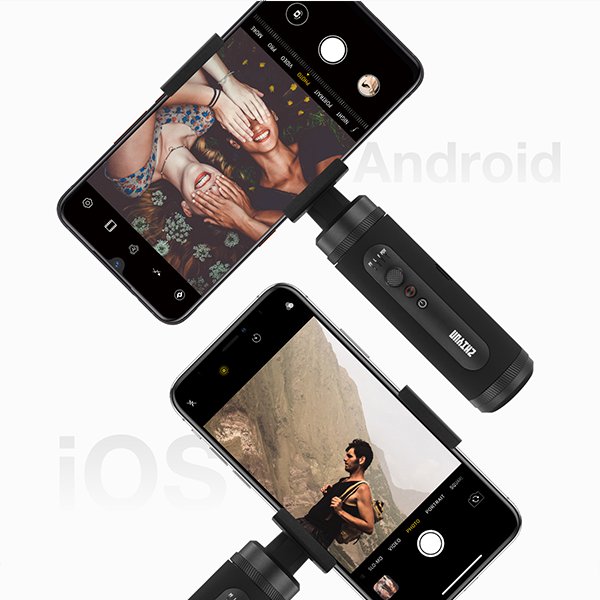 Capture Moments in Fast Lane
Support native iOS and Android phone cameras also 3rd party photo/video APP like FilMic Pro App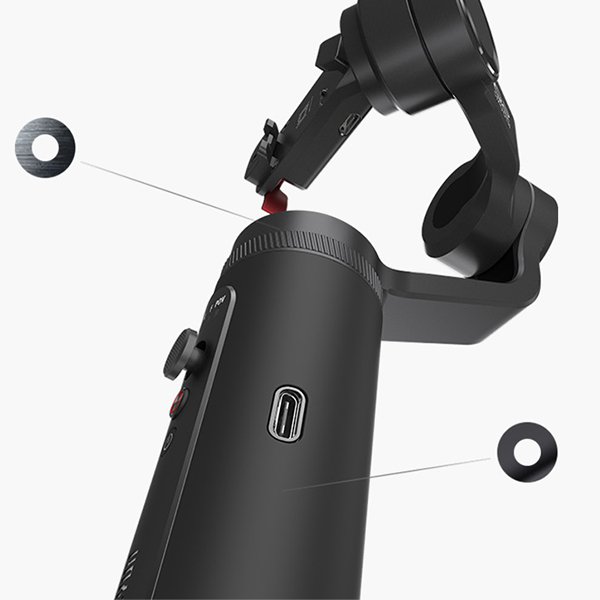 Aluminum-built miniaturized body
The aluminum-built miniaturized body is crafted for maximum solidity. Coated with soft silicone, the handle is comfortable in your hand.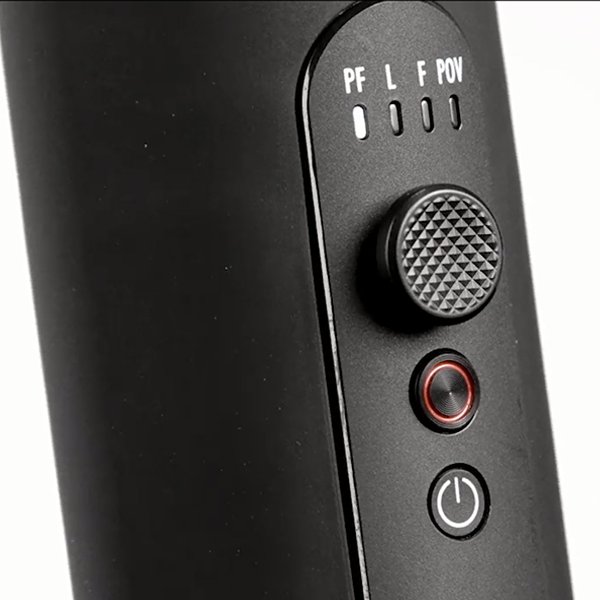 Functionality in Simplicity
Zhiyun Smooth q2 equits One LED indicator, two buttons and one 5 way control joystick, and that is all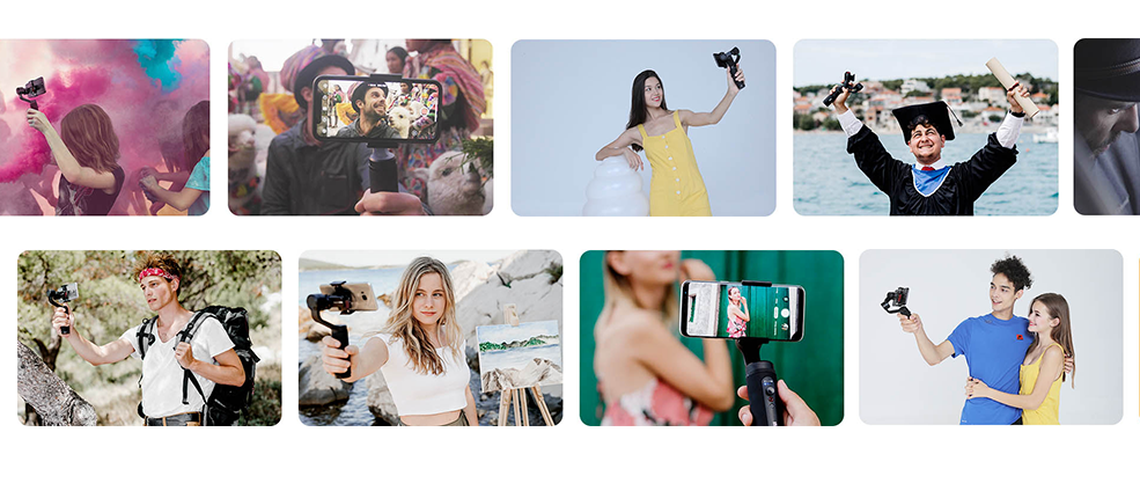 Shoot. Play. Memorize
Take SMOOTH-Q2 out of your pocket and ready to shoot.
Enjoy the fantastic moment and let the SMOOTH-Q2 to help you keep the moment in memory.
Functionality in Simplicity
Switch among versatile modes with one button. Besides Pan Following Mode, Following Mode and Lock Mode, SMOOTH-Q2 integrates Vortex Mode which gives videomakers the freedom to create 360-degree barrel shots in all dimension. Newly added Full-Range POV Mode allows 360-degree synchronous movement on three axes, providing an immersive effect to the video.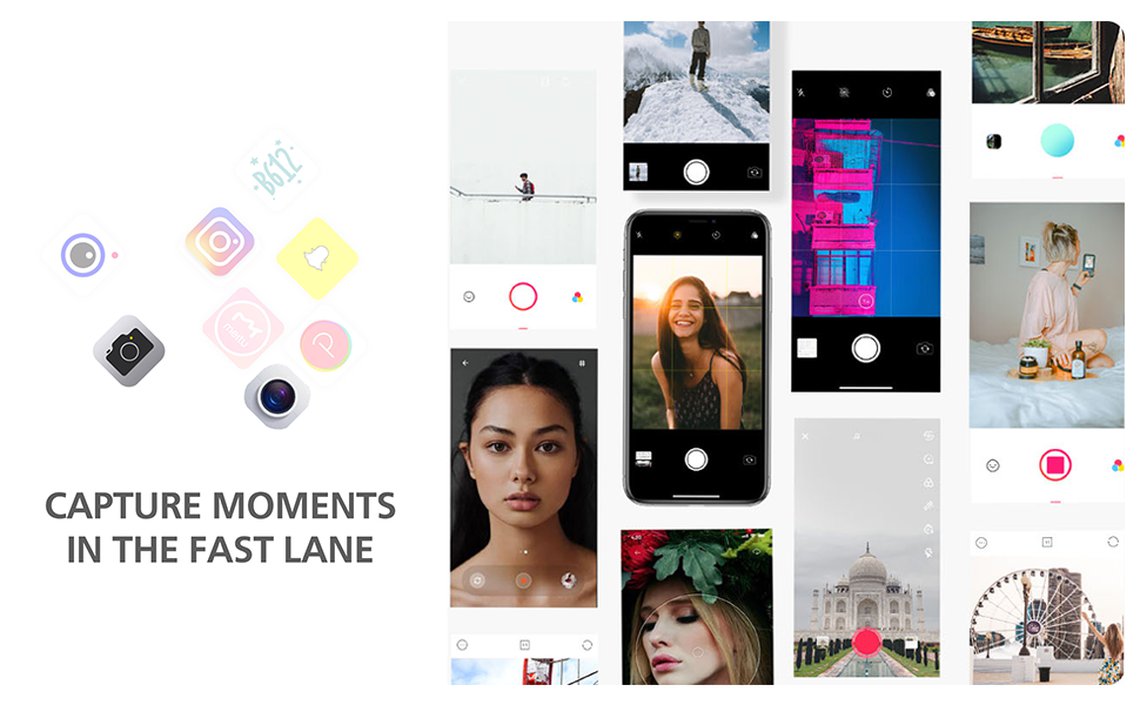 Capture Moments in Fast Lane
SMOOTH-Q2 supports direct control to native iOS and Android phone cameras for photo and video taking, providing a fast lane for you to capture the moments.
* SMOOTH-Q2 may not be able to shoot with some wide angle and ultra-wide angle phone cameras. Please consult customer service for compatible phone models.

ZY Play App Compatible with the following equipments:
iPhone 11 / Pro, iPhone XS Max,iPhone XS,iPhone XR,iPhone X,iPhone SE,iPhone 8 Plus,iPhone 8,iPhone 7 Plus,iPhone 7,iPhone 6s Plus,iPhone 6s,iPhone 6 Plus,iPhone 6
Google: Pixel XL, Pixel 2 XL, Pixel 2, Pixel, Nexus 6P, Nexus 6, Nexus 5X
Samsung Galaxy S10 S9 Plus, Galaxy S9, Galaxy S8 Plus, Galaxy S8, Galaxy Note 8 Note 10
Huawei P9, P20 Pro, P10 Plus, P10, Mate 9, Mate 8, Mate 10 Pro, Mate 10
Oneplus 7T 6T 6, 5T, 5, 3T, 3
Xiaomi Redmi Note 4X, Redmi Note 3, MI 6, MI 5s, MI 5, MI 4 MI8 MI9
LG G6, G5
Smartisan U1 Pro, Nuts Pro 2
Oppo R9s, Find X
Vivo X7, NEX
*Support list of this device will be continuously updated.


 
ZHIYUN SMOOTH-Q2 Smartphone gimbal stabilizer
Sale available on Gimbalgo.com & USA Amazon
Buy Now
We are the authorized retailer of Zhiyun and the product we sold is under factory warranty service, furthermore, you can register in our website to extend your warranty service to 2 Years Register Now