The EACHSHOT C-Stand are made of stainless steel, which is strong and durable. C-Stand triangle opening and closing center of gravity is stable and strong. Sturdy 3 legs can be folded to save space. The multifunctional holding arm is suitable for installing various accessories and applying a variety of light positions. It is suitable for the suspension of large accessories and heavy lamps in the studio. Used in professional studios, advertising shooting, video films, live, etc.

Main Features:
Used for mounting strobe lights, reflectors, umbrellas, softboxes and other photographic equipment; Its solid locking capabilities ensure the safety of your lighting equipment when in use.
Sandbags can be placed on the legs to increase the base weight(Not included).
The light stand is made of lightweight metal making it strong for heavy duty work.
Its solid locking capabilities ensure the safety of your lighting equipment when in use.
Compatible with Godox AD400 AD600 AD600BM Pro Aputure 120D 300D II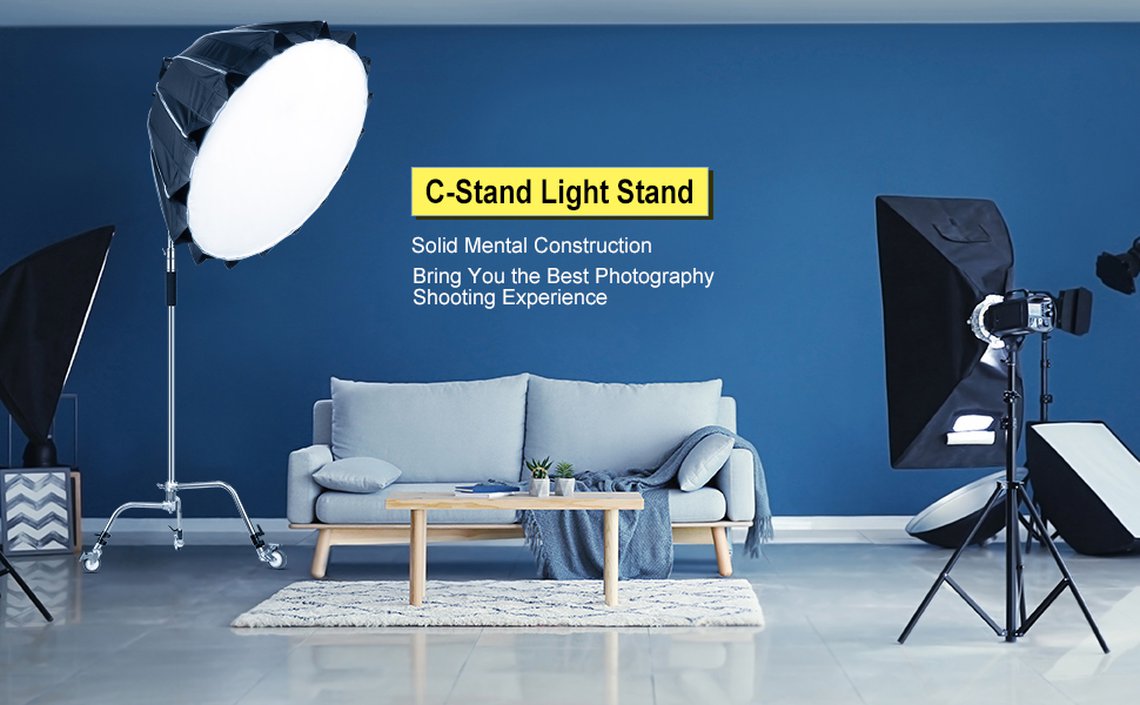 Specification:
Center Stand Maximum Height: 10.8 feet/3.30 meters
Center Stand Folded Height: 4.9 feet/1.5 meters
Boom Arm Length: 4.2 feet/1.28 meters
Material: Stainless Steel
Color: Silver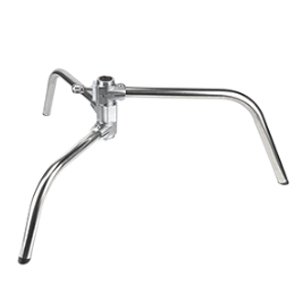 Convenient and Stable
3 legs open and close, the center of gravity stable support strong. Good load bearing and seismic performance. Uniform firmness, in line with equipment requirements. Separable three-legged design for quick folding. Flexible for a variety of scenarios.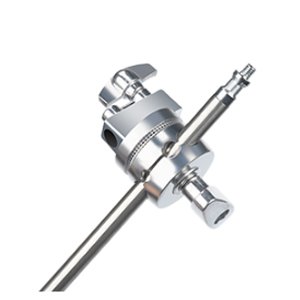 2 Metal Grip/Knuckle Heads
The 4 different size holes design of the round handle clamp makes it easier to lock the holding arm and other accessories. It is suitable for connecting more size holding arm and accessories, and the operation is simple.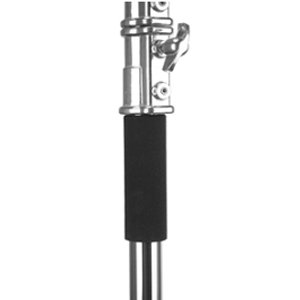 Non-slip Handle
High-quality sponge handle, comfortable hand feeling, and beautiful design. It can also play a non-slip effect when you move.

How to Start

Applications


*Wheels need to be purchased seperately, if you get the standard packing.